| | |
| --- | --- |
| THE SLASHER | Also known as "Cosh Boy" |
1952. Directed by Lewis Gilbert. Camera: Jack Asher. With James Kenney, Joan Collins, Betty Ann Davies, Robert Ayres, Hermione Baddeley, Hermione Gingold, Nancy Roberts, Laurence Naismith, Ian Whittaker, Stanley Escane, Michael McKeag, Sean Lynch, Johnny Briggs, Edward Evans, Cameron Hall.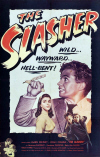 Less than pleasant crime drama based on a stage play 'Master Crook' by Bruce Walker about the activities of Cockney jack-the-lad Roy Walsh (James Kenney). Lewis Gilbert's study of post-war juvenile delinquency, alienation and rebellion looks tame today but was heavily criticized on release for its sensationalist premise. An early role for a miscast Joan Collins who looks far too sophisticated for her character.
Walsh makes his dubious living by applying the eponymous weapon to the pates of old ladies on the streets of London and relieving them of their purses. Eventually the police catch up him and his sidekick Alfie (Ian Whittaker), but in court the Magistrate passes a fairly lenient probation sentence in suggesting that they join a youth club.
From the relative safety of the local youth club, Walsh and Alfie use the building as a base for their growing operation. By intimidating other members of the club, they increase their numbers. Walsh's success goes to his head and he arranges the robbery of the takings from a wrestling night. He becomes attracted to his friend's sister, Rene (Joan Collins), and seduces her on a bombsite whilst his gang beat up her boyfriend. Rene later becomes pregnant, and she attempts suicide. When the robbery goes wrong, Walsh shoots a doorman and finds himself on a charge of attempted murder.