Eagle Lion Films, 1949. Directed by Robert Hamer. Camera: Douglas Slocombe. With Dennis Price, Valerie Hobson, Joan Greenwood, Alec Guinness, Audrey Fildes, Miles Malleson, Clive Morton, John Penrose, Cecil Ramage, Hugh Griffith, John Salew, Eric Messiter, Lyn Evans, Barbara Leake, Peggy Ann Clifford, Anne Valery, Arthur Lowe, Stanley Beard, Maxwell Foster, Peter Gawthorne, Molly Hamley-Clifford, Leslie Handford.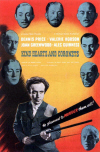 Louis Mazzini is a descendant of the D'Ascoyne family, a family of royals, but unfortunately his mother has been disowned by the family for taking up with and marrying Louis Mazzini Sr., an Italian singer whom the family highly disapproves of. When Mazzini Sr. meets an untimely death early in young Louis' life, he sees his mother struggle to give him everything he needs, so after she dies, he vows revenge. He decides that he will get his birthright and become the Duke of Chalfont, except he has to get through the eight people ahead of him who are in line for the title.
Meanwhile, while he is calculating how he is going to commit cold-blooded murder to knock off each heir, he carries on a sort of double affair with Sibella, a woman who he has been enamored with since they were children and is now married to a former classmate of theirs, and Edith, the young widow of one of the D'Ascoyne heirs that Louis offs.
The story is told in flashbacks as Louis sits in a jail cell, awaiting his execution and writing his memoirs.