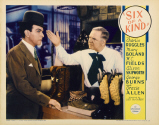 Mr. and Mrs. J. Pinkham Whinney are planning a motor trip to Hollywood, Calif., for their second honeymoon. Mrs. Whinney advertises for a couple to accompany them and share expenses. Of course, it turns out to be George Edward and Gracie DeVore, with their tremendous great dane.
A fellow clerk in J. Pinkham Whinney's bank has put fifty thousand dollars in the latter's suitcase, intending to hold him up his first night on the road. But Gracie insists on going by another route, and it is not until they reach Nuggetville, Nev., that detectives are able to catch up with them.
Sheriff John Hoxley and Mrs. K. Rumford, the local innkeeper, collaborate on a hilarious arrest. However, J. Pinkham Whinney is finally cleared and the Whinneys' traveling companions wish themselves on another unsuspecting couple and travel on. Finally Mr. and Mrs. J. P. Whinney can have a moment alone.
What was said about Six of a Kind:
The Literary Digest (Argus)
"Filmgoers who have the proper enthusiasm for the art of W.C. Fields should find Six of a Kind one of the cinema joys of the year. Since this mad and wildly merry screen farce likewise features the antics of such expert performers as burns and Allen, Mary Boland, Alison Skipworth, and Charles Ruggles, it obviously has its decided merits (or any admirer of the more amiably lunatic school of film comedy, but there is reason to believe that it is the Fields addicts who will get the most fun out of this film. W.C. Fields is one of the rarest and most original of American comedians.


There is gusto and richness to everything he does, and a certain outrageous air of frayed and battered dignity that is utterly and completely distinctive. Nor is it entirely his appearance and manner that are responsible for the striking hilarity. In the recent film version of Alice in Wonderland he played the character of "Humpty-Dumpty" and even while completely encased in his eggshell he was the only player in the entire cast of stars that was able to create a vivid characterization by his voice alone. This strangely effective voice of his is particularly surprising in view of the fact that he began his theatrical career as a juggler and pantomimist."
New Outlook (Cy Caldwell)
"Here is good fun for everyone, and especially grant entertainment for those discerning cinema patrons who delight in the solemn insanities of that king of comedians, Mr. W.C. Fields. In this gloriously crazy picture he is the Sheriff of a Nevada town, playing his famous game of billiards, describing how he came to be called Honest John, and remarking that everything really pleasant is either illegal, immoral, or fattening. To me, a devout Fields fan, he is the star of the picture."
Motion Picture Herald
"This is a carnival of nonsensical comedy. Rarely has this reporter seen a crowd so enthusiastic in the appreciation of screen amusement as was the preview audience. Clocking the laughs was impossible; they came so fast and furiously. There's fun in the basic story; there's more fun in the atmospheric specialties which embellish it."
Newsweek
"As might be expected from such an assemblage it is madcap from beginning to end. Six of a Kind is fun for everybody."