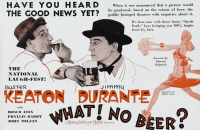 What - No Beer?, Buster's last staring feature film for MGM, was an embarrassment to him. Drinking more than a bottle of whiskey a day, and in no condition to work, he was in terrible physical condition when the film went into production in December 1932. Natalie had been given an interlocutory decree of divorce in August of the previous year, as well as custody of Jimmy and Bobby. The effects on Buster show on the screen; his voice is congested and his body is sluggish, his movements slow. Moreover, the script was terrible. Durante, who shares equal billing with Buster, talks incessantly. Buster, ill and depressed, takes a back seat to Durante.
Buster plays taxidermist Elmer J. butts who, in partnership with Jimmy (Jimmy Durante), purchases an abandoned brewery after the repeal of Prohibition. The two entrepreneurs have trouble with the law (Prohibition had not yet been officially repealed) and with local gangsters, but by the end they are shown as the happy millionaire owners of a beer garden. Buster contributed gag material to only one scene in the film: Elmer dodging barrels of beer rolling down a hill is a reworking of the boulder rockslide chase from Seven Chances.
Buster was just another MGM employee with What - No Beer?. His contract renewal of July 9, 1930 had been very similar to his lucrative original contract. However, with his 1932 contract he was obliged to have twenty percent of his three-thousand-dollar weekly salary taken out each week until the thirty-three thousand dollars in losses the studio incurred from his absences during Speak Easily had been repaid. Moreover, his new contract no longer required MGM to make him the star; he was, in fact, co-star in What - No Beer? with Durante, and the profit-sharing arrangement between MGM and Buster Keaton Productions was not included.
MGM sent Buster to various alcohol rehabilitation clinics during this period. However, Buster's drinking continued, and his erratic behavior caused further absences that resulted in nearly two weeks of lost shooting time. Shortly after What - No Beer? was completed in January 1933, Louis B. Mayer sent Buster a letter of termination. Mayer had always disliked Buster, the reason for which has never been fully explained. With Thalberg on a leave of absence from the studio after suffering a massive heart attach, Mayer tookit upon himself to get rid of Buster. Keaton would eventually return to MGM as a gag-man and supporting actor. Although he would go on to make three more starring features (all made outside the United States between 1934 and 1946), with his termination letter of February 2, 1933, Buster's days as a major motion-picture star were over.