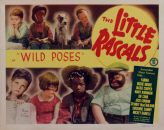 Accosting the neighborhood with his sales rigmarole, a door-to-door solicitor convinces the Treacys that they should have their child's picture taken by portrait photographer Otto Phocus. But Spank is apprehensive about the project, especially when he hears Phocus discussing one picture session when "I had to shoot that boy nine times," and some retouching work where "I cut an inch off a boy's nose."
Meanwhile, some other kids roaming around the studio expose Phocus's raw negatives to light and break his lens. This, plus Spanky's belligerence, makes the session a catastrophe. Spanky's most frequent response to the hapless photographer's please for cooperation is a crackling punch on the nose. Finally, as a diversion Phocus has Spanky's pop pretend to take his picture with one camera while Phocus secretly does the actual work from another. Through his bird-brained wife's interference, Pop gets tangled up in the camera, sending Spanky into gales of laughter. Phocus takes his shots, convinced he has a set of masterpieces. Once in the darkroom, however, he sees that nothing has turned out, because of the boys' earlier tampering. The provoked family can't stand any more, and turns to leave. "Oh please," begs the sobbing photographer, "please give me just one more bust!" Prepared to oblige for once, Spanky walks back over to deliver a final sock on the snoot.
A beautiful essay in frustration, with its story roots in Harry Langdon's Smile Please, and Charley Chase's The Family Group, Wild Poses eclipses both, and emerges as an entirely enjoyable short, one that has many unusual things going for it.
First, it throws the figurative spotlight on a delightful comedian, Franklin Pangborn, as the photographer—a rare showcase for an adult performer in this series. Second, it recasts Emerson Treacy and Gay Seabrook as Spanky's parents after their initial appearance in Bedtime Worries. Third, it features Laurel & Hardy in a brief gag appearance.
Pangborn's pussycat face and pansy screen personality had already taken hold with most movie audiences, through frequent appearances in short subjects and feature films, with W.C. Fields in the 1940's (he's brilliant as the persevering J. Pinkerton Snoopington in The Bank Dick). Wearing a ridiculous smock and beret, the pompous, mannerly Pangborn milks his scenes in Wild Poses for everything they're worth, and finds a worthy opponent in uncooperative Spanky. When he demonstrates how he wants the grouchy youngster to smile for his photo, Pangborn contorts his face into a prissy, cherubic pose, and a frowning Spanky calls out gruffly, "Hey, Pop, do you see what I see?"
As for Treacy and Seabrook, their personalities seemed to blend quite nicely with Spanky's. This was obviously part of a scheme to make them running characters in the Our Gang comedies. Curiously, Wild Poses was their last appearance. Perhaps it had something to do with Bob McGowan leaving the series after this film and Gus Meins taking over. Whatever the reason, their characterizations counterpoint each other particularly well.
Spanky and his pop have a basic affinity that overcomes minor squabbles and, usually, Spanky's unbelieving looks sympathize with his poor father in moaning over his wife's imbecility. When Pangborn inadvertently squirts Treacy with water during a sitting, Mom explains why to an inquiring Spanky: "Don't be dumb, dear. That's the way they take water-colored pictures." Spanky stares up at her and shakes his head in wonderment at her brain power.
One aspect of the plot that is particularly well handled is Spanky's fear of the portrait camera, which he thinks looks like a cannon. Having heard the photographer speak of "shooting" one boy nine times, and "retouching," which Stymie explains as touching and then touching again, his nervousness is quite understandable. There is then a marvelous sequence of Pangborn rolling eh massive camera along the floor toward his "victim." The picture cuts from a first-person shot of Spanky seeing the ominous black monster coming nearer and nearer, to the camera's eye view dollying in toward the frightened boy. In a short that takes an adult's eye view for most of the proceedings, this is a delightful bit of youthful empathy.
Laurel & Hardy's gag appearance is of course a highlight. Once in discussing the casual walk-ons he and his stars often made in each other's films, Mr. Roach naturally got around to Wild Poses. The Laurel & Hardy cameo, it turns out, was Roach's idea. He simply asked if they'd help him follow through on a gag idea he had, and they were happy to do it.
Having played their own children a few years earlier in Brats, Laurel & Hardy were well suited for this fleeting sequence shown fighting over a milk bottle as the photo salesman comes calling. Indeed, the giant chair and wall used in the scene were remnants from the massive set and props constructed for Brats.
In a single, medium-long shot lasting some twenty seconds, we see Laurel characteristically grin into the camera while scratching his head, and Hardy, too, looks into the lens as he waves with his pudgy fingers, both as if to say, "Look, it's us!" The Boys' appearance on screen is heralded by incidental music scoring (which incorporates "The Ku-Ku Song") out of their recently released feature The Devil's Brother.
Everyone was satisfied with the results, Roach recalls, and McGowan left the sequence in. What prompted the idea? "Well, after all, ours was a comedy studio," Hal Roach explains, "and we always did those walk-ons just for fun."
One more inside joke—just as in Brats, where The Boys use a gag photo of Jean Harlow, in Wild Poses the portrait hanging on the studio wall over Pangborn's right shoulder in the early scenes is a still photo of Hal Roach.
Curiously, as pointed up in Stan Laurel's 1963 letter quoted in the notes for Seeing the World, Laurel did not recall working in any Our Gang film. Hal Roach has said that there was never any rivalry among the units around the lot, and that Laurel, like Charley Chase, would frequently pass on gag ideas to Bob McGowan for use with the gang. Perhaps the brief time spent shooting the vignette during a most prolific and troubled period in Laurel's career contributed to the vagaries of his memory in this instance. Aside from the cross-fertilization of gag ideas, we know from the kids themselves that Laurel & Hardy, like the other Roach stars, would visit the gang during downtime on the sets. The question naturally arises, what did Stan Laurel think of Our Gang? He had ample opportunity to appraise their product, since he often viewed their rushes each day as well as his own. Stan's biographer, John McCabe, says, "Stan thought Our Gang was 'cute'—his word, and a word he meant. He was not a man to use a cute word like 'cute' unless he meant it. He thought Spanky was 'cute,' Darla was 'cute,' and said so warmly. He enjoyed the kids very much.
Sidelight: One of Hollywood's greatest directors, George Stevens, had worked for Hal roach in the 1920s and early 1930s as a staff director and photographer. With a whole host of other Roach alumni, he was currently engaged at RKO on a series that copied Roach's teenaged version of Our Gang, The Boy Friends. It wouldn't be long before Stevens would graduate to features, with Hal Roach loaning him Spanky McFarland for one of his earliest works, Kentucky Kernals. A September 5, 1933, press release carried this news of Stevens' son, later the director of the American Film Institute: "Georgie Stevens, Jr., 16 months old, makes his screen debut in Wild Poses, an Our Gang comedy. The youngster, according to director Bob McGowan, gives promise of becoming a real 'Gangster' in a few years, and is being groomed for stellar honors." Young Stevens' scenes, however, were inexplicably cut from the finished product, and do not appear in Wild Poses. When we disclosed this information in a letter to George Stevens, Jr., at the AFI in 1971, he wrote back, "I can't tell you how distressed I am to know that someone has finally unearthed documentation of my abbreviated career as an actor. I can only plead, since this took place in 1933, one year after my birth, that I was well below the age of consent at the time."