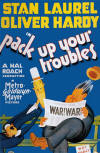 It is World War I and, shortly before he is killed in action, Laurel & Hardy promise their best pal that they'll look after his little girl, and restore her to his wealthy parents. Back in America after the war, they try to keep their promise, but since they know only that his name was Smith, finding the girl's grandparents isn't an easy job, and orphanage officials are constantly on their heels to seize the child.
Made in 1931, but held back until late 1932 for its release, this second Laurel & Hardy starring feature was better constructed than the first (Pardon Us) but far less amusing. Most comedy teams, from Wallace Beery and Raymond Hatton to Abbott & Costello and Martin & Lewis, have found the Army comedy a fairly safe vehicle with which to establish themselves early in their career. And had Laurel & Hardy stuck to the service-life knockabout—far less overworked in 1932 than it would be a decade later—the formula might well have worked for them too.
Certainly the funniest sequences appear at the beginning of the film, with George Marshall (the director) proving an apt comedian as a tough Army cook, and James Finlayson going through his usual paces as a short-tempered officer into whose quarters Laurel & Hardy empty all the garbage pails! But with the introduction of the little girl, plot and sentiment interfere far too often, and the film veers more in the direction of Jackie Coogan's My Boy than towards showcase sequences for Laurel & Hardy humor. As the mean official from the orphanage, Charles Middleton had some fine moments, but most of the strong supporting cast of character comedians was badly wasted.