It may not be chic to remember, in a day when antiheroes are the style, that one of the most cinematic and popular screen actors who ever lived was the highly romantic Douglas Fairbanks, the first beau ideal of silent films. And it may not be wholly in accord with the modern sophisticates' taste to state that the best of his pictures was The Thief of Bagdad, presented in 1924.
Yet it cannot be disregarded that Fairbanks was, in his ingenuous way, a major and responsible contributor to the evolution of cinema. No one of his generation―not Tom Mix or William S. Hart or Rudolph Valentino or John Gilbert or even Charlie Chaplin―and no one since, was more of a picture performer or projected more personality than he. Neither did any, save Chaplin, do more to create a cinema style. And no one received more endorsement and affection from the fans.
As for The Thief of Bagdad, it gives us Fairbanks at the peak of his flamboyant style, which is frankly―and, in this case, openly―devoted to fabricating myth. And it still is a glowing example of magic-making in the silent spectacle film.
The interesting thing is that Fairbanks had a basic robust personality which he consciously evolved and adapted to several shifting entertainment purposes. When he first entered motion pictures in 1915, he came from the stage where he had a good reputation as a juvenile in light comedies. He was a bright, cheerful, cheeky fellow whose off-camera acrobatic tricks of vaulting over tables and flinging himself into chairs did not especially endear him to D.W. Griffith's Fine Arts Triangle Company, with which he made a somewhat lurid melodrama entitled The Lamb. It is said that Griffith advised him he might better put his athletic skills to the slapstick comedies of Mack Sennett, who was also at Triangle.
Fairbanks was saved from that consignment, or from returning to the stage, by a happy crossing of paths with a young director at Triangle, John Emerson, and a young title-writer, Anita Loos. These two recognized in his manner a bold, uninhibited quality that might be put to good use in a sort of brassy, wisecracking comedy. They proved it with him in a waggish, action-packed semi-farce, His Picture in the Papers, which was the restart of his screen career.
Between 1916 and 1919, Fairbanks played in some twenty-five films, comedies, melodramas, westerns, which bore such expressive titles as The Half Breed, American Aristocracy, The Americano, and Reaching for the Moon. Out of this body of pictures, there emerged the Fairbanks image: a vital, aggressive, optimistic, romantic young American businessman for whom no obstacle was too discouraging and who always came out happily in the end. All through his pictures ran a clear strain of vigorous self-confidence, a persistent endorsement of clean living and high morality. Fairbanks delighted in spoofing American manners and fads, but he was incontestably chauvinistic, one hundred percent American.
In 1919, he joined with Mary Pickford, Chaplin and Griffith to form United Artists, an independent company designed solely to distribute their films. The following year, Fairbanks and Miss Pickford―who was, of course, the reigning female star, world famed as America's Sweetheart, or Little Mary of the Golden Curls―were married, thus manifesting that Cupid also had a keen sense of good publicity.
Fairbanks, indeed, was quite as nimble and shrewd a businessman in real life as ever he managed to appear in any of his films. He was also a clever showman. He soon realized, after the First World War, that public taste was changing, that the kind of ingenuous comedy in which he had been so successful had just about run its course. So, in 1920, he made a tentative experiment with a new kind of costume picture, The Mark of Zorro, in which he used his style of acrobatic swashbuckling to play a charitable Spanish-American grandee, an aristocratic do-gooder, in the days of the Spanish occupation of California. It proved immensely successful and brought him to recognize there must be a waiting market for this sort of sprightly costumed farce. The following year he ventured an even more ambitious go at derring-do. It was the role of D'Artagnan in a free-wheeling treatment of Dumas' The Three Musketeers.
Aware of the effectiveness of scenery in this new métier, he next chose a subject that would offer opportunity for noble display. He would do the outlaw hero from English ballads and legends, Robin Hood, and for this film he built a full-scale castle, surrounded by great Norman walls and moats. Within this huge scenic arena, he frolicked and leaped fantastically, fighting sword duels up long stone stairways and swinging on candelabra. His neatest stunt in this picture and probably his most memorable of all is a slide from a high balcony in the great hall to the floor in the fold of a huge tapestry. (The trick was very simple: the tapestry concealed a sliding board.) There are those who think that Fairbanks reached his peak in Robin Hood (1922).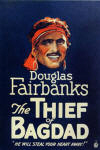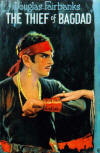 But I say his paramount achievement in terms of self and cinema is his next film The Thief of Bagdad, to which he devoted the better part of 1923. In this eclectic compounding of several of the Arabian Nights tales into a wildly romantic story of the adventures of a cynical rogue who falls in love with the Caliph's daughter and finally wins her by feats of derring-do, Fairbanks makes a full leap into the area of utter pictorial fantasy that had been opened by Georges Méliès in France but was almost totally neglected up to that time by the makers of American films.
To outdo the Norman castle he built for Robin Hood, he and his art director, William Cameron Menzies, now went to the extreme of constructing a fanciful city and palace, with shimmering domes and minarets, delicately sagging stairways and gracefully arching bridges that soar away into space. They made no pretense of simulating Oriental reality. Their dream city is a coalescence of illustrations from story books. The high silver walls were constructed and painted so that they would seem to float above polished pavements. The décor was created to suggest that it was insubstantial and weightless. And the designs for the Adventures of the Seven Moons, which comprise the latter part of the film, were unprecedented concoctions of animated scenery and trick photography.
Consistent with his moralistic concepts, Fairbanks meant this picture to convey a message of inspiration and hope. "Our hero," he reminded his scenarist, Elton Thomas (who happened to be himself), "must be every young man of this age and any age who believes that happiness is a quantity that can be stolen, who is selfish, at odds with the world and rebellious toward conventions on which comfortable human relations are based." This, he said, was a deception that must be exposed. Fortunately, the primness of this precept does not noticeably intrude in the film, as it swings along gaily and spectacularly under the direction of Raoul Walsh.
It is the story of a handsome, charming, muscular and altogether adventurous rogue who runs about the crowded streets of Bagdad in billowy pantaloons, his torso bare and a piratical kerchief tied about his head. Then one evening he dares to enter the palace of the Caliph, gliding over the high, Maxfield Parrish walls by means of a magic rope.
Once inside, he is filching a string of pearls from a laden treasure chest when he comes upon the airy bedchamber of the Caliph's daughter, sleeping in sweet repose with her Oriental handmaidens around her. From this moment, the thief is charmed by the beauty of the princess, and devises various deceptive ways to attain her attention and favor. The most successful is to disguise himself as one of the princely suitors who have come to Bagdad to seek her hand. He succeeds in being chosen (by the accident of being tossed from his horse into the very rosebush that, like a goal line, must be touched first by a suitor to win), but his disguise is penetrated, and the Caliph orders that he be flogged and flung to the ape. However, the Princess, now smitten by the gorgeousness and valor of the rogue, secretly fixes his release so that he may participate in the new contest the Caliph has arranged for the suitors: to bring back the rarest treasure from distant and magical lands.
It is in the series of adventures of the thief and his rivals as they strive to invade assorted fabulous regions, such as the Valley of the Monsters and the Citadel of the Moon, and there to obtain such treasures as the magic apple, the flying carpet and the winged horse, that Fairbanks and his designers project their most spectacular fantasies. The ingenuity and humor of their creations are delightful and prophetic indeed, for they prelude such later achievements in trick photography and miniature work as that in the fantasies of The Lost World (1925) and King Kong.

Needless to say, it all ends with the thief winning the princess and the two of them riding away into the sky aboard the magic carpet, while stars twinkle and form into a sparkling title reading, "Happiness Must Be Earned."
Of course, there is a thoroughly insouciant incongruity about the whole thing, a blissful indifference to the logic of climate and character. The thief is an obvious Anglo-Saxon, a smiling American superman, and the princess, played by Julanne Johnston, is a beautiful Nordic blonde. Her father, as played by Brandon Hurst, might be a prosperous banker, and the mean Mongol prince is represented as a typical Occidental concept of Oriental villainy by an imported Siamese actor, So-Jin. This is pictorial thimblerigging for sheer entertainment's sake, a frank showing-off of Fairbanks' talent for prestidigious feats within a spectacular ambience of scenic and cinematic trickery.
And it is notably clean. It is not a cover for the sort of creeping pornography―the bathtub skin games and pagan orgies―that was evident in some concurrent costume films. Except for one scene in which the phallus of Fairbanks outcrops slightly within his pantaloons, there is not a trace of sexual agitation or suggestiveness in the whole film.
Strangely, The Thief of Bagdad was not as popular as Robin Hood, even though it was critically acknowledged as a more imperative work. It was probably too elaborately plotted, as Intolerance had been. And audiences were not then congenial to such unrestrained flights of fantasy.
After this, Fairbanks continued to make costume spectacle films, though not on a scale as ambitious or extravagant as this. In 1929, he and Mary Pickford made their first picture together and his first talking film. It was a rather bloodless adaptation of Shakespeare's The Taming of the Shrew. Professionally and domestically, it was the beginning of the end for both. Their images, cherished in silence, did not survive in sound. Fairbanks made four more pictures before he and Miss Pickford were divorced in 1935. That was the finish for him. He died in 1939, at the age of fifty-six.